30 (thirty)
is a positive integer following
29
and preceding
31
. Its ordinal form is written "30th" or "thirtieth".
Properties
Edit
30 is an even composite number and equal to five primorial.
In googology
Edit
In Greek-based number-naming systems, 30 is associated with prefix "triaconta-", and with prefix "triginti-" in Latin systems. In the Misalian seximal system, this number is called "fifsy", because it's five times six.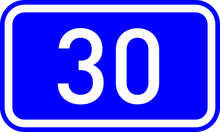 As a banknote denomination
Edit
The Tunisian dinar had banknotes with this number in the denomination.