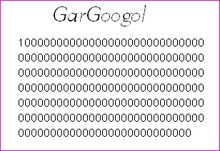 The gargoogol is equal to googol2 = (10100)2 = 10200.[1] Its name comes from combining the gar- prefix with a googol.
This number can also be called fzhundred using the fz- prefix, since it is equal to 100100.
This number is also called guppychime by Sbiis Saibian,[2] googool by André Joyce,[3] and toohol, 200-noogol, or centesimal-googol by Aarex Tiaokhiao.[4]
Username5243 calls this number gooducol, and it's equal to 10[1]200 in Username5243's Array Notation.[5]
SuperJedi224 calls this number centengol.[6]
Approximations in other notations
Pronunciation
It is likely pronounced as so:
Sources
See also
Numbers named with the fuga- family of prefixes