An
octillion
is equal to 10
27
in America, or 10
48
in France and Germany.
[1]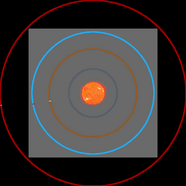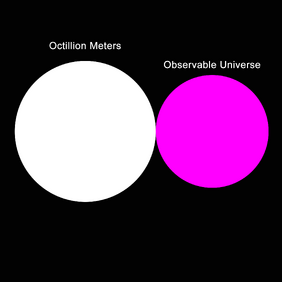 In the long scale, 1027 is called quadrilliard, which is commonly used in France and Germany.
Both Russ Rowlett's Greek-based naming system[2] and Aarex Tiaokhiao's googology site[3] give the name ennillion for this number.
The number is also called tre-bitillion by SuperJedi224.[4]
1,000,000,000,000,000,000,000,000,000 - short scale *1,000,000,000,000,000,000,000,000,000,000,000,000,000,000,000,000 - long scale
Examples
Edit
The earth has a mass of about 5.98 octillion grams.
The mass of the sun is about 1.989 octillion metric tons.
The volume of the sun is about 1.412 octillion cubic meters.[5]
An octillion dollars in 100 dollar bills would cover the US with a layer of 1000 km (625 miles) thick.
One octillion square centimeters would just barely fit inside the orbit of Mars.
There are over 7 octillion atoms in the human body.
There is over 169.5 octillion ways to play the first ten moves in chess.[6]
The total volume of the sun is 1.4 octillion cubic meters.[7]
The Hungarian pengő had the highest rate of hyperinflation recorded, reaching 400 octilion pengős.
interestingly an octillion had nothing to do with the number 8.
See also
Edit
Ad blocker interference detected!
Wikia is a free-to-use site that makes money from advertising. We have a modified experience for viewers using ad blockers

Wikia is not accessible if you've made further modifications. Remove the custom ad blocker rule(s) and the page will load as expected.