A
quadrillion
is equal to 10
15
in America, or 10
24
in France and Germany.
[1]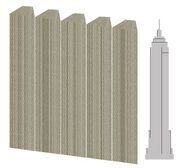 In the long scale, 1015 is called billiard (not to be confused with a game), which is commonly used in France and Germany.
This number is also called pentillion in Russ Rowlett's Greek-based naming system.[2]
Aarex Tiaokhiao gave the name petillion[3] and Sbiis Saibian gave the names small fry, guppycrumb, and minnowspeck,[4] referring to the value of this number.
Aarex Tiaokhiao also calls this number qndoocol or 15-noogol.[5]
This number is known as a padma in the Indian counting system.[6]
1,000,000,000,000,000 - short scale
1,000,000,000,000,000,000,000,000 - long scale
Approximations
Edit
Examples
Edit
The Niagara Falls use up a quadrillion gallons in a little over 210 years.
The Great Lakes have a volume of about 6 quadrillion gallons.
The universe is about 473 quadrillion seconds old.
It is about 586 quadrillion miles from one end of the Milky Way to the other.[7]
As a banknote denomination
Edit
Only the Hungarian pengő had banknotes with this number in the denomination.
See also
Edit
Ad blocker interference detected!
Wikia is a free-to-use site that makes money from advertising. We have a modified experience for viewers using ad blockers

Wikia is not accessible if you've made further modifications. Remove the custom ad blocker rule(s) and the page will load as expected.